Fast Facts
Stop aspirin and other medications causing bleeding one week before surgery.
If you notice swelling in the wound or trouble breathing after surgery tell the nurse immediately.
There's a small risk of permanent change in voice.
If the whole gland is removed you will need to take a thyroid hormone tablet every day for the rest of your life.
Take two weeks off to recover.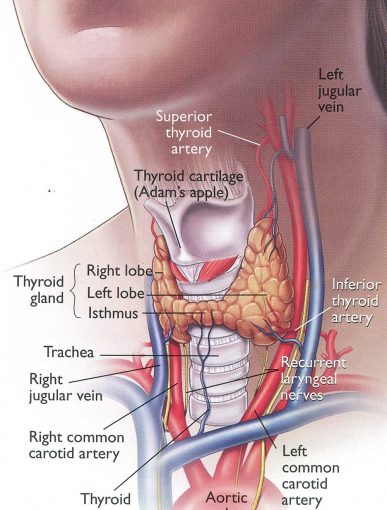 What is this for? Is it effective?
Thyroidectomy means removing the thyroid gland.
Removing one side of the gland is called hemi-thyroidectomy.
Removing the whole gland is called total thyroidectomy.
Your surgeon and endocrinologist (hormone specialist) will recommend which operation you need.
The thyroid gland makes thyroid hormone. This hormone is essential for many parts of the body to work properly especially the brain and heart.
The thyroid gland may need to be removed if the gland is too large, overactive or contains a nodule that could be cancer:
Too large, causing pressure on breathing and swallowing.
Over-active, making too much hormone. This is usually treated with medication first. If medication isn't working, surgery or radio-iodine treatment are the next options.
Thyroid nodules (lump) are very common. These can be benign or malignant (cancer). Benign nodules are much more common than malignant nodules.
Tests for thyroid disease:
Blood test to check the hormone level.
Ultrasound shows the size and shape of the gland and the size and shape of nodules. Each nodule gets a score (TIRADS) and helps the surgeon and radiologist decide if the nodule is more likely to be benign or more likely to be malignant. If the TIRADS score is higher, an FNA is recommended.
Ultrasound guided needed sample (FNA) can determine if the nodule is benign or due to cancer. This is like having a blood test, but the needle is placed into the lump to draw out some cells rather than into a vein to draw blood. The pathologist gives the cells a score (Bethesda). A higher score means the lump is more likely to be cancer and surgery will be recommended.
CT of the neck and chest if the gland is very large or you have breathing or swallowing pressure symptoms from a large thyroid.
For more information about thyroid disease and treatment see www.thyroid.org