Fast Facts
Don't use Nurofen for one week before and two weeks after surgery, don't use Painstop at all.
Stay within an hour of a hospital for 2 weeks after surgery.
Eat as normally as possible while recovering including solid food.
Take 2 weeks off to recover – this includes day-care/school/sport/work/study.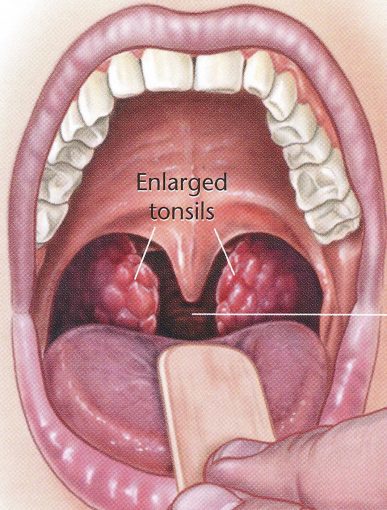 What is this for and is it effective?
The tonsils sit on each side of the throat behind the tongue. The adenoid is like the tonsils and sits high in the throat behind the nose. They are part of the immune system, helping to recognize and start the immune response to viruses and bacteria that are inhaled through the nose or swallowed. They are important in the first year of life and can then be removed or reduced without affecting the immune system.
A large or inflamed adenoid can cause blocked nose, snoring or middle ear problems. Large tonsils can cause snoring and sometimes trouble swallowing. Infection of the tonsils can cause acute tonsillitis or chronic tonsil inflammation with smelly white debris in the creases of the tonsil surface. Occasionally, tumours can arise in the tonsils or adenoid.
Removing the tonsils stops tonsillitis and chronic infections and inflammation. Removing the tonsils and reducing the adenoid helps snoring. Reducing the adenoid can help blocked nose and middle ear problems. Surgery is most likely to be effective if the tonsils and adenoid are the only cause for the problem.
See also Adenoidectomy